The coming of September heralds the resumption of our activities, very varied activities that allow you to discover the different eras and expressions of Greek culture.
Before presenting the first events planned for the start of the school year, we would like to remind you that last year we gave priority to maintaining Greek language and culture courses via the zoom application and we wish to continue to encourage the use of hybrid methods. The semester will be loaded with various activities, which marks our return after the summer break.
 Among the events, we invite you to remember:
 Resumption of the monthly Cine-Club
Friday September 24, 2022 at 8:00 p.m.
movie The Fourth Character, ο Τέταρτος Χαρακτήρας
by Katerina Patroni, 2020
 Who is the fourth character in Katerina Patroni's documentary? On screen, however, there are only three: a young woman who lost her brother in a motorcycle accident; a man in his seventies who regrets the death of his mother and his youthful penchant for women and gambling; a 30-year-old who seeks forgiveness and reconstruction by devoting his life to abstinence and volunteerism. And the fourth then? Would it be the object of mourning? Or that of a religious belief? Could it be the city of Athens, very present in the three stories from start to finish? Or would it be the spectator who chooses, for himself or not, a place in the picture drawn by the filmmaker? It's up to everyone to choose.
 The film, formally, is a very beautiful film by a filmmaker, constructing its narration like an alternating trilogy, in tight or wide shots, but always fixed, with a powerful aesthetic requirement. The director thus follows her "antiheroes" strolling through the often dirty and noisy streets of the Greek capital in winter, among cars, in a bus, on a scooter, a vacant lot, a bridge, a sidewalk. They tell their mistakes, their pain, always reveal themselves in voiceover, without ever looking at us or talking to us directly. Like a catharsis. And everything becomes a symbol, from their repetitive, liberating actions (tying ribbons, feeding pigeons, picking up trash), to realistic images, sublimating the ugliness of everyday life, taken day and night, punctuated by the music of Bach .
 A very beautiful tribute to the capital of Greece which generously welcomes and envelops the loneliness of some of its inhabitants, thus offering them a space to heal the wounds of their souls. .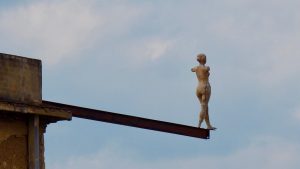 INFORMATION MEETING  on the resumption of all activities is scheduled for Saturday October 8 from 3:00 p.m. to 6:00 p.m. at the Maison des Associations, 12 ter Place Garibaldi.
 CGDAM COURSES AND WORKSHOPS will start during the week of October 3, 2021. We have tried to maintain the same time slots as in previous years as they gave full satisfaction to our participating members.
→ TRADITIONAL GREEK DANCES to discover the music, beauty, richness and strength of local traditions.
→ MODERN GREEK καλημέρα! to know and master this language, better immerse yourself in the culture of this country with thousand-year-old traditions and bring you many other things.
→ CHOIR, for those who prefer to express themselves through singing, the music section is making its comeback with several voices.
→ GREEK COOKING CLASS for lovers of Greek cuisine, uninitiated or curious minds who will be able to create a dish or dessert that is both authentic and original.
→ SEWING WORKSHOP, for those who wish to create Greek costumes and accessories for children and adults.
→ OUR SATURDAY MEETINGS.. every fortnight to discuss a theme, read, listen to or play tavli…
 GREEK DANCE WORKSHOP Saturday 26 and Sunday 27 November 2022- . Workshop led by Jean-Alex Benetto of the HIPHAISTIA Association